In this episode, Leanne Ford gives us a behind the scenes scoop on what it's like to be an HGTV star and lets us in on some fun stories from each of the shows she's been a part of — including "A Very Brady Renovation," her own show "Restored by the Fords," and HGTV's new series "Rock the Block."
Leanne dishes on how to feel brave and become capable when it comes to renovations and DIY projects. We get a peak into her new book, "Work in Progress," available starting October 29th — plus she shares all about her signature white-on-white aesthetic and her favorite shade of white.
You can download this episode from Apple Podcasts, Google Podcasts, Stitcher, and Spotify – or listen to it below!
Listen on:
Note: If you're reading in a feed reader, you may have to click through to the post to see the player.


CHATTING WITH...
Leanne Ford is an American interior designer from Pittsburgh, Pennsylvania. Ford gained national attention for the 1907 schoolhouse turned home that she restored and designed in her hometown. It was this first personal project where she established the "white on white" signature aesthetic she's now known for. Featured in Country Living magazine, the house launched her career as an 'interior designer,' leading to projects in Pennsylvania, New York, and Los Angeles, each a reflection of her modern yet lived-in aesthetic. Ford's easy vibe and personal style match the stylish yet approachable spaces she creates and curates. Her work has been featured in Architectural Digest, Country Living, Domino, GQ, Lonny, Elle Decor, Martha Stewart, Better Homes and Gardens, Redbook, MyDomaine, Refinery 29, the New York Times, and more; her bathroom design has been featured on the cover of Bright Bazaar's latest interiors book, Dream Decor. She is currently the star, along with her brother and contractor Steve Ford, of Restored by the Fords on HGTV, which follows the siblings as they turn some of Pittsburgh's most dated buildings into magazine-worthy homes.
get in touch
Instagram: @leannefordinteriors  +  @leannefordcreative // her website

episode sponsors
The Home Depot
Home Decor exclusively at homedepot.com. Affordable & stylish pieces to decorate your space plus perks like in-store pickup and free 2-day shipping on orders over $45. The Home Depot offers exclusive brands like the Home Decorators Collection + StyleWell at amazing prices.
 Krazy Glue
Fast Dry Wood Glue is one of my favorite products for DIY projects. This glue cures in just 6 minutes, works on all kinds of woods, and is washable and sandable. I use it for all kinds of decor projects — its available online on Amazon

things to check out:
HGTV shows:
Restored by the Fords // Rock the Block // A Very Brady Renovation
Leanne's book:
Leanne's current collab
Leesa Legend - the first 'dual hybrid' mattress on the market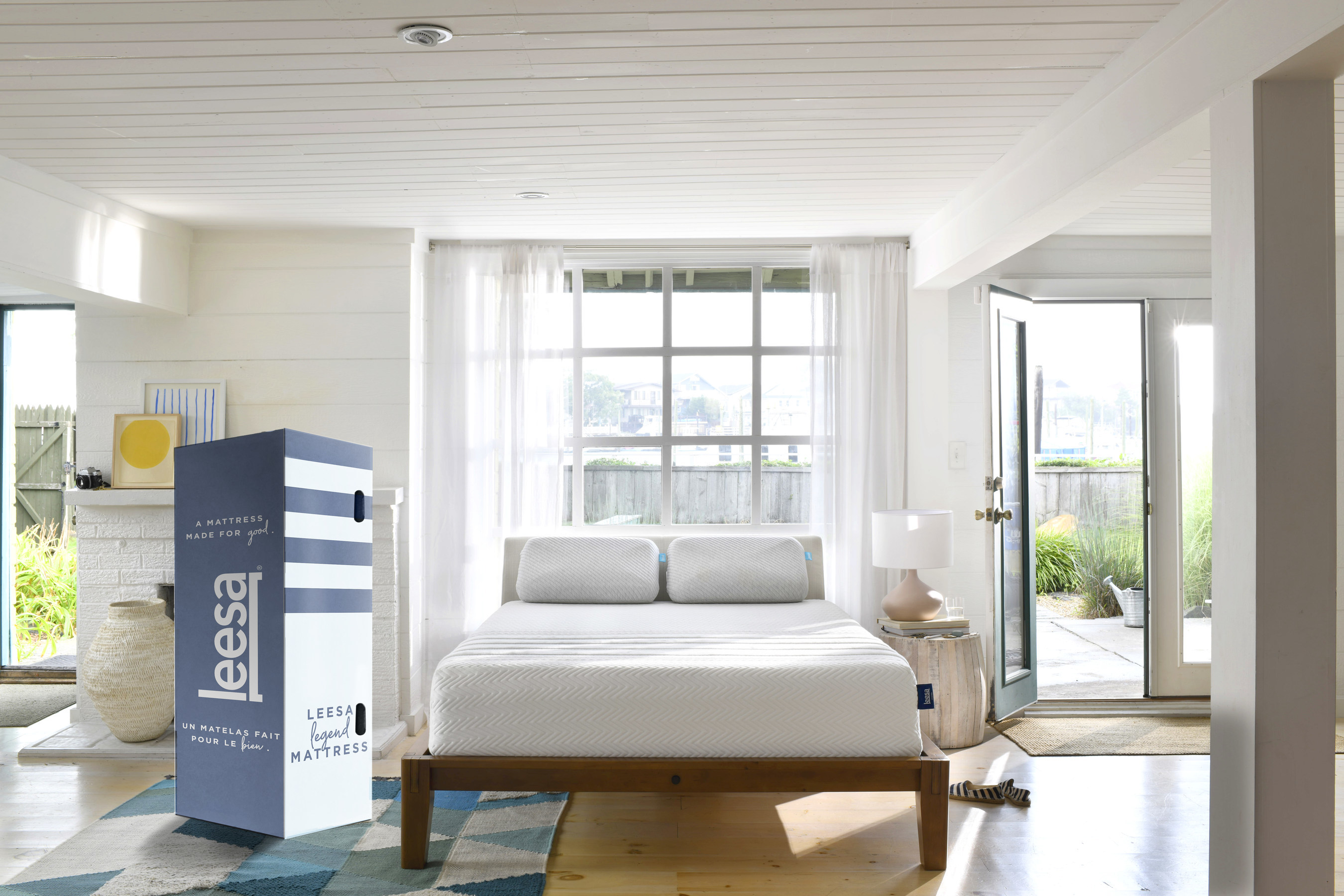 let's talk about it!
Ask me your questions!! Send Cara + the team an email at podcast@neverskipbrunch.com with your questions or comments OR call the podcast hotline at (720) 319-7438‬ and leave us a voicemail. If we choose to answer your question on the air we'll play your message.
Follow @makespacepod on twitter - Twitter is our chosen social platform for the podcast — follow along for episode sneak peaks, additional exclusive tips + guest announcements and more!
Leave a review on itunes - Screenshot your review before you submit it and send it to podcast@neverskipbrunch.com and we'll send you a free interior design project guide to help you design your space step-by-step

#OBSESSED
what i'm loving this week
POLYMER CLAY — This clay is easy to work with and stays soft until you bake it. You can get a pottery / craftsman vibe for your DIY decor projects without all the effort of actual ceramics.
Polymer clay can be baked in your home oven and used to make a range of DIY decor projects like my thanksgiving napkin rings and terrazzo planter below.
Polymer clay is also perfect for DIY gifts, so it's something to play around with as we approach the holidays.
You can DIY christmas ornaments or earrings as a gift.
You all have been asking for ideas for upscale DIY projects that don't require power tools and polymer clay is definitely a fit!
I can't wait to see what you guys make!!
Shoot me an email or share on Twitter with #makespacepodcast to ask all your polymer clay-related questions or show me your finished project!

WAIT, WHAT?!
stuff we just need to talk about
throw blanket size depends on the furniture it's going on
When you're buying throw blankets, you need to plan for more than the coziness factor. Think about where it's going to be styled in your space.
Big furniture like a couch can handle large throw blankets, but if you're going to style them on smaller furniture like a chair, opt for a smaller blanket.
DIY PROJECT: How to make a DIY Industrial Style Blanket Ladder under $60
If you like having a large blanket everyone can snuggle under for movie night, opt for a blanket ladder like the one above or a basket to the side of the couch it can be stashed in if it's too big to be styled on the furniture.
let's talk about it!
What do you think!? Are you a throw blanket hoarder who buys any one that's cute or do you carefully plan out your throw blanket purchases to fit you space?
Leave a comment below or use #MakeSpacePodcast on Twitter to share your response on social media

EP 17 TRANSCRIPT
...just in case you wanna read
Cara Newhart: 00:00 You're listening to the MakeSpace podcast episode number 17
INTRO: 00:22 Hey, welcome to make space a home design show made to inspire you to create spaces you truly feel at home in Cara Newhart. Sits down with amazingly brilliant guests for conversations that dive deeper than pin-worthy rooms to tease out the essentials of creating spaces that feed your soul and inspire your creativity from home design strategies to decor, advice to interior design, tips and tricks. These conversations help you dream up a beautifully lived in home. Cara is the Designer and Chief Creative Enthusiast behind never skipped brunch. Her work has been featured in print publications like people style watch and Denver style magazine as an influencer. Cara has collaborated with brands like Amazon,H and M, Twitter and Thrillist. Here's your host, Cara Newhart.
Cara Newhart: 01:21 What is up everyone!? Happy Wednesday! So today is a very highly anticipated episode. I cannot freaking wait to dive in because I am sitting down with one of my all time favorite designers. She's probably a lot of your favorites. I mean she has her own show on HGTV. But before we get to that, I have just a few quick announcements. So number one is that I've been working on streamlining everything when it comes to the podcast. Like I want you guys to be able to get in touch with me and the team like super easily. So basically I've narrowed things down to three options. Number one, you can hop over to Twitter and follow @makespacepod and that is going to be the only social media I use for the podcast. It's going to be its own dedicated account. I'll be posting all kinds of extra bonus content, extra tips, um, some more in depth stuff about the guests announcing new episodes.
Cara Newhart: 02:22 That way it's like literally all in one placed and you don't have to hop around to like Instagram and then also Facebook and that also cause zillion other things. So Twitter is our dedicated social media platform for the podcast. This is really great. If you are a first time listener and you want to kind of explore what it's about, hop over, make space pod, give me a follow and we'll stay connected. And then for you listeners that have been around a little bit for all of you that loves sending in questions, which I absolutely love receiving, the two options for getting in touch with me are number one you can email podcast@neverskipbrunch.com with all of your questions, all of your comments. Um, anything you want to say to me or get in touch with me, um, shoot me an email or you can call the podcast hotline and that number is (720) 319-7438.
Cara Newhart: 03:18 So you can give me a call and then leave a voice mail with all of your questions, all of your comments. And then as those build up, I'll start to do like mailbag listener episodes and answer all of your questions on the show. So if you do leave a voicemail, you can be featured in a future episode, which is exciting. Okay. Now that you're totally in the loop, it is time to dive into this episode, which I have teased and teased and teased because I am so excited. Today I'm sitting down with Leanne Ford, who is an American interior designer from Pittsburgh, Pennsylvania. She gained national attention for a 1907 schoolhouse that she turned into a home and has gone on to host her own show on HGTV with her brother called restored by the Fords and has co-hosted other series like a very Brady renovation and HGTVs rock the block, which just premiered this week. And you guys, it's amazing. Her work has been featured all over the place, like the New York times, better homes and gardens, Elle decor, architectural digest, her signature design aesthetic is white on white. It is such a gorgeous style. It's a very unique, she is just a creative soul at heart and this conversation is way too good. So without further ado, let's sit down to chat with one of my very favorite designers, Leanne Ford.
INTERVIEW: 04:45 [Phone Rings]
Leanne Ford: 04:51 Hello?
New Speaker: 04:51 Hello. Welcome to the Make Space podcast.
Leanne Ford: 04:55 Hey Cara, how are you?
Cara Newhart: 04:56 I am so good. And I am so thrilled to have you on the show today. You have so, so many exciting things going on. But before we dive into all of those, let's just chat a little bit, kind of about your background and design style. For listeners out there who might not be familiar with your work, um, can you share a little bit about your first project and how it propelled into shaped your career as a designer?
Leanne Ford: 05:20 Oh yeah, sure. So I was in fashion for 15 years doing creative direction and I've finally, I'd always fixed up all my rentals and painted my apartments and you know, to my landlords dismay. And finally when I bought my own little house outside of Pittsburgh where I grew up, I was able to rip walls out and do exactly what I wanted.
Leanne Ford: 05:44 And, um, from there country living magazine, Oh, found out about it. And he called me to shoot my house. So it was the first project I ever fully did. It was the first project that was shot for press and from a, people started calling and asking me to design their homes. So, uh, being a true freelancer, I said yes, I just figured it out as I went along. I love that so much. I feel like you're just a creative at heart, having a background in fashion and then kind of like transferring that design. So yeah. Yeah, that's what I say. I'm like, when you're a creative soul it comes out in many ways and you know, it's kind of ever evolving. Um, and it was fashion for a long time and then there was a overlap and now it's full speed ahead and interior design world.
Cara Newhart: 06:35 I love that so much. So one thing that I really, really love about the spaces you've designed is how bright and airy they are while still feeling very grounded and very full of interest. Um, so your signature is setup. Is that white on white? Why is white your GoTo wall color and what do you like about that look?
Leanne Ford: 06:55 Yeah, it's so funny. I, I am a big proponent of white paint. I just feel like it's a fail proof. The answer to design always looks good. It's always timeless, is always classic. And, um, it's for people who are kind of questioning what to do or how to do it. That's what I always suggest to them cause you really can't go wrong.
Cara Newhart: 07:17 Yeah, for sure. Do you have a favorite brand or like a shade you love?
Leanne Ford: 07:21 Yeah, I love PPG. Timeless, pure white. Awesome. Totally. Thank you for asking that.
Cara Newhart: 07:28 So, um, for as much as we see, uh, using white, um, and as much as you love it, you're also not afraid to use flack, which I know for a lot of people is pretty intimidating. Is there like a secret to incorporating black and keeping it feeling like lighten area and not too heavy?
Leanne Ford: 07:48 You know, I think there's two versions of it. If you want your house to feel light and airy, black as an accent always works. So it's about, you know, the window trim or maybe it's just the cabinets in a white kitchen and there's just different ways to play with it. Yeah. But also it is being someone who loves a right every room, eye or and house. I tend to always do one little dark space, which usually is a powder room to be honest. Or a lot of times it's a small bedroom or something where if the space is small, I go with it and paint it dark and make it feel smaller and cozy.
Cara Newhart: 08:27 Yeah, I love that. So for most of our listeners who are already very much familiar with you via all your projects, all your press features or that amazing show on HGTV called Restored by the Fords. Can you give us some insight into this show? Are there any fun behind the scenes stories or crazy moments you can let us in on?
Leanne Ford: 08:48 Oh my gosh. I mean, the thing is behind the scenes, the, it's interesting. It really is truth, you know, it really is reality. We don't fake anything. We don't script anything. It's all real problems that we've had. It's all like exhaustion and emergencies. And my brother's always questioning my design decisions. It's, it's pretty right on when the first time we did a show, um, and they aired it. I was, I didn't want to watch, I didn't want to see it, but I then I was like, all right, we got to see how that house turned out on how they edited it.
Cara Newhart: 09:25 Right, right.
Leanne Ford: 09:25 They do. The HGTV does such a great job at, uh, capturing kind of our dynamic and my style and who we are naturally. So it was, uh, [inaudible] was right on. They definitely got the Ford family and I'll say,
Cara Newhart: 09:40 yeah, I love that. I love that it is accurate because it does feel that way. So it's good to know that it's right on. And your and Steve's dynamic is so fun to watch. Probably, especially for me because it's so similar to the relationship I have with my brother where I bombard him with creative ideas and he's just kind of chill about it. But then like fires back.
Leanne Ford: 10:01 it always takes, like with Steve, it takes them 24 hours. So I say, no, we want, I want to do blah, blah, blah. Like, Nope, can't do it. And then the next day is like, this is how we're going to do it.
Leanne Ford: 10:15 I mean, but no fail every single time it happens again. And again. I'm like, why do I still, why do I still get this is driving me crazy. I just need to go away. Let them come back to me. So I'm, I'm using all my, uh, female whips to figure out how to deal with my big brother.
Cara Newhart: 10:34 Yeah. Oh, it's so funny. Um, so what's it like being able to team up and work together? Is it like something you ever planned on or did it just kind of work out? Well, you know, I had bought this old farm house in Pittsburgh, my second project and um, I hired Steve to do it. So I was living between Pittsburgh and Los Angeles. Steve was working full time on this farm house and it was at the same time HGTV was calling. Yeah. So I actually told them that I work with my brother, um, which sometimes I questioned myself like, why did I do that?
Leanne Ford: 11:12 But I told him, cause he really is an incredible, uh, carpenter and he can make anything happen. Yeah. And I, uh, I just kind of pitched the concept to him that he's with me because they'd been talking to me for a long time. I said, well, what about Steve? I work with my brother. So, um, the fun thing is I feel like everybody relates to it. You either have a sibling or you kind of wished you did. Everybody that has siblings either relates to it or kind of [inaudible] wishes that they had. Oh, that relationship. But you know, it's, it's one where there it's full of love, but it's not, um, nobody's it. Right. We're not a very couple that people are judging our dynamic when your brother's sister, everybody's just a that's it.
Cara Newhart: 12:02 Yeah. Oh my gosh, that's such a good, such a good perspective because that is so true. You're just like, Oh, yep, they're siblings. That's kinda how it works. That's so funny.
Leanne Ford: 12:10 Yeah, exactly.
Cara Newhart: 12:11 So along the lines of that dynamic, your very first book is available now to preorder, which is crazy exciting. Um, I love checking out the first chapter as a sneak peek and I cannot wait to read more. So can you tell us all about it?
Leanne Ford: 12:26 Yeah, thank you. It's called Work in Progress. It's my brother, Steve and I, we really just, a lot of people were asked us one how we kind of landed on HGTV. So that story, which is a very long windy story is in the book, but also how we grew up and why we weren't afraid to fail, so.
Cara Newhart: 12:58 Yeah.
Leanne Ford: 12:58 It's honestly about being a creative soul and how you get there and how you're not afraid to fail. We always — I cite my parents, I think they really let us try things and experiment and we had a very strong foundation so I'd say, we were free to fly, flutter and fly.
Cara Newhart: 12:59 yeah. That's really really amazing, and I feel like, just drawing a parallel for my listeners — cause a lot of them are new to DIY, new to the home space, and the questions I get all the time are always about like, "how did you do that I could never do it," or "how do I get started?" and just, that perspective of experimentation and enjoying the process is so, so beautiful.
Leanne Ford: 13:25 Yeah, I love that, it is about the process and I think once you get over the fear of blowing it and you get over the kind of thinking that you have to have all the answers [inaudible] you can enjoy, enjoy it. I mean, the title, "Work in Progress" is based on one — you know, construction and what we do for a living but also, you know our story is not over, if all goes well we're not even a third though it, you know, we got years ahead of us, so this is just where we are now.
Leanne Ford: 14:24 Oh, I love that — I'm really excited to go grab that. So when does it officially come out to go buy?
Leanne Ford: 14:24 Cara it, comes out October 29th.
Cara Newhart: 14:24 Perfect, well we will link that in the show notes.
Leanne Ford: 14:24 oh my gosh thank you. And then, Steve and I did the audiobook too which was pretty much Steve's biggest fear [laughs].
Cara Newhart: 14:24 That's so funny but so cool — I love when its like, author-read.
Leanne Ford: 14:24 Yeah so if you — I mean I don't know who's going to be ok with us talking in their ear for 8 hours,
New Speaker: 14:24 [laughs]
Leanne Ford: 14:24 but uh, its there — it's ready.
Cara Newhart: 15:12 Oh. I love it, cant wait — So, in addition to having your own show on HGTV, you've also been a part of some shows that include many of our favorite designers, um, like "A Very Brady Renovation" which is on HGTV now — um, and I just caught up on it this week [laughs] — do you have any, like, highlights or thoughts to share about tackling that avocado & orange kitchen?
Leanne Ford: 15:12 I mean, it was one big highlight. Working with the Bradys was so surreal, I mean, we grew up watching them. We weren't really allowed to watch a lot of shows, which looking back I totally understand why. TV is so...uh special [laughs] But like Brady Bunch was the safe thing to watch that we could all watch together. So my brother and I were absolutely shocked the whole time. So I walked in my first day and Maureen McCormick was smiling at me — she's got the biggest eyes — she's just looking at me and she goes, "I love your show"
Cara Newhart: 15:13 oh my gosh!
Leanne Ford: 15:13 and I was like, "Maureen," — who's Marsha by the way — I was like, "I love YOUR show"
Cara Newhart: 15:13 Yeah! [laughs].
Leanne Ford: 15:13 I mean, it was surreal the whole thing. So even though we helped design and build this house, once it was finished — standing in it was, uh, beyond, I mean beyond —.
Cara Newhart: 15:13 Yeah, yeah, cause its like, you totally brought it to life for sure — like I was ridiculously impressed with how real it looked and how accurate it was.
Leanne Ford: 15:13 I mean it is, it is real. And the crazy thing is, when you're walking through it you feel like you've been there before. You've seen it so much, it felt very familiar to be in there. It was a really, very cool thing, we were so honored.
Cara Newhart: 15:26 Yah. I love when HGTV — like I love everyone's individual shows and styles, but when they do something kind of like that and team everyone up together and it's just kind of next-level — so exciting.
Leanne Ford: 15:26 it's so fun, and you know we really like our cohorts - we had the best time with our HGTV friends. Like we're in this weird little society now.
Cara Newhart: 15:26 Oh totally, I mean you guys just look like little best friends - like a - a cool community.
Leanne Ford: 15:26 Yeah we really like each other, we're always kinda like — the property brothers seem to be king and and king, I dunno. [laughs]
Cara Newhart: 15:26 Yeah [laughs] so funny.
Leanne Ford: 15:26 They just tell us what to do, we do it.
Cara Newhart: 15:26 Yeah? [laughs] They have a commanding presence, I'm sure.
Leanne Ford: 15:26 Except Steve's taller than them, they don't like that.
Cara Newhart: 15:26 [laughs] So then next up is HGTV's Rock the Block, which is a competition series premiering Oct 21st. I've only just seen previews but this show is packed with some fierce ladies like if there are girl crushes to be had, or fangirling to be done, this is totally the show.
Leanne Ford: 18:01 We had the best time, so I had met — I had met Jasmine and I had meet Mina before and then in the airport on the way to film the first day of [inaudible] the show, I see Alison in the — in the airport. And I'm like, "are you Alison?" And we ended up hanging around the airport, we got stuck — we had a 14 hour delay in the Chicago Airport so we had some serious bonding time.
Cara Newhart: 18:24 Yeah.
Leanne Ford: 18:24 And then, we got to set and it was, I mean it was the best version — those girls are very competitive, I mean, I'm not — uh but, I just minded my own business and we all had the best time.
Cara Newhart: 18:24 Yeah, it's such a cool concept, I can't wait to see how everyone's turns out — so for people that haven't seen previous can you share like the premise of the show I guess?
Leanne Ford: 18:49 Yeah, yeah yea, so Rock the Block is, there's 4 designers from HGTV, Jasmine Roth, Mina Starsiak, and Alison Victoria, and myself and we are going head to head — they say, I mean its a competition show for design but I say this all the time on the show which is, "Design is not competitive, its art" you know it's subjective and just because your house looks one way doesn't make my house a different way. My thing was, I will come on your show but I'm just going to make a good-looking house [inaudible].
Cara Newhart: 18:49 Yeah, not here to compete, just here to create.
Leanne Ford: 18:49 like, I'm here to do another pretty house. And I'd say I did a great job. [laughs]
Cara Newhart: 18:49 oh my gosh, I can't wait to see it, so everyone has the same floor plan?
Leanne Ford: 18:49 Yeah. The um, it is the same. Well it's there. It's the same house four times on the street. So this is a new build. So we got to kind of do whatever we wanted to it to increase value was what they wanted.
Cara Newhart: 18:49 Ooh, that's fun.
Leanne Ford: 18:49 Yeah. You're kind of getting the, um, the first hot tip on this actually, Cara.
Cara Newhart: 18:49 Yeah. Woo. Oh my gosh. I cannot wait to watch this. It's like everything we could have hoped for in a series cause it's like some of my very, very favorite designers.
Leanne Ford: 18:49 Awe, I love that.
Cara Newhart: 18:49 Yeah! So a lot of my mission for the podcast is really to help everyday women feel, like, empowered so they can tackle those big projects in their homes and not be intimidated by design. Is there any advice that you would give her, in terms of like how to feel brave and maybe even become capable when it comes to renovations and DIY Projects?
Leanne Ford: 20:44 Well, honestly the thing would be, I always come back to this Albert Einstein quote, which is the fear of failure kills creativity. Yeah. And I think the reason people, you know, the reason people are stopping themselves is they don't want to blow it. Well, why don't you just go ahead and blow it now and then keep going. Yeah. Yeah. [inaudible] it's not, um, it's not worth it to worry, like in that the worry really prevents the creative stuff from happening. Yeah. Most of the good stuff I love that kind of happened was by mistake or was fixing a problem or was like, oops, okay, now what? You know? And that's when the good stuff happens anyway.
Leanne Ford: 21:35 Yeah. Yeah. I'm like, people need to kind of let go. And okay. In a, in a creative business of any form, you cannot control it. You know, you [inaudible] you're kind of a vessel that creativity comes through. So you need to be okay with that. Um, [inaudible] and loosen up, let loosen up. So good life motto.
Cara Newhart: 22:00 Yeah, no, it really is really, really is. Um, when you were like first new to interior design, what, like where did you find inspiration or are there any like specific designers you looked up to?
Leanne Ford: 22:14 Yeah. You know what you've, you find an, I find inspiration from everything. Every, everywhere I look, you know, everywhere visit, everything I listened to. Strangely I, I read a lot of rock and roll documentaries and those always inspire me. Yeah. Just as a creative and then that kind of goes through whatever Ave I'm in it.
Leanne Ford: 22:41 So if you're an inspired person, everything will inspire you. You know? And I, I always say, don't be afraid to look up, look around cause it's all there.
Cara Newhart: 22:53 Yeah. I really love the idea of like going outside of your genre too. Like, I feel like a lot of people, at least like the everyday girl who's decorating our house probably gets stuck in Pinterest or just looking at this, seeing them, you know, designer she loves, but looking at like life in different categories is a whole nother level of inspiration I feel like.
Leanne Ford: 23:14 Yeah. And that's the other thing is, um, that a lot of times I'll mistake something I thought I saw and that will inspire me in a way or, you know, something I thought I heard and I heard it wrong and that will inspire me. So, um, [inaudible] and you know, the fun thing too as Pinterest is so massive and it's an amazing resource, you know, the thing to do with Pinterest is instead of letting it tell you what to look at, think of kind of key words that you love.
Leanne Ford: 23:50 Um, or you know, I always put in Wabi Sabi designer, wabi-sabi, Paris or you know, any kind of thing that, that kind of makes you think in a different direction. I'd say just put in fun keywords and let it go down the rabbit hole.
Cara Newhart: 24:10 Hmm. I love that. Like use it instead of like prescriptive, like here's the inspo you should copy. It's like adventures.
Leanne Ford: 24:16 Yeah, exactly. I use it a lot as a resource for clients where I, if I have something that I kind of think up, I know in some way it's been done in some form and you know, that's actually a good thing because I can visually translate it. So I'll be like, Oh, I want a purple elephant on the ceiling. So, you know, put it in purple elephant, somebody has done it. So you know, they're like, how and how you play with that and use it. Um, just backwards a little bit. Yeah.
Cara Newhart: 24:50 Oh, that's such a good tip. Like that's only the only Pinterest tutorial I think anyone needs. Yeah. Yeah. Um, so when you are designing a space, is your process kind of like, since you've done so many, is it kind of down to a science where you like start with a certain thing and then like move through steps or is it just kind of all like a fresh approach? Depending on the client and the house and all of that?
SPONSOR BREAK: 25:25 we'll be right back at ya after this brief, but important announcement to hear Leanne dish all about her design process. All right, let's take a break and talk about our sponsors.
AD: Krazy Glue: 25:36 What's so exciting about this show is all of you that are getting inspired to get making diving into DIY projects and creating decor for your home, even if you've not done much of it before. So I talk all the time about how DIY is a journey and you have to let yourself experiment and try new materials and products because that's how you get good. So my biggest tip for success when it comes to becoming a pro DIY buyer is to find products that make things easier. You don't have to do things the hard way. One of my very favorite products for all kinds of Dai projects is crazy glue, fast dry wood glue. It makes so many of my decor projects way easier because it doesn't have to dry overnight. It cures in just six minutes. It works on most wood types. I've made everything from frames to wreaths to cake stands with this product and even used it for fast and tough wood fixes on furniture in terms of making the job easier, I also use it in combination with regular wood glue for super big projects like my blanket ladders. It gives a quick bond and a solid hold. All the regular wood glue dries and creates a super strong bond. It's also washable and sandable, which means cleanup is easy and you can create projects that look polished and professional. If you want to give it a try, it's available online@amazon.com or you can head over to bit dot Lee slash crazy glue, wood glue. That's crazy with the K and then all of those words capitalized
Music: 27:09 [music]
AD: Home Depot: 27:17 You all know that home Depot is my go to for all the materials and tools that I need for DIY projects. If you watch my Instagram stories, you know that I'm there at least once a week, but if you haven't heard the home Depot also has a whole collection of home decor that recently launched exclusively@homedepot.com you can find everything from home accents to plush towels, cozy bedding to area rugs and furniture to holiday decor. So I have been checking out their home decor for the new house since I have quite a few spaces that will need updating as we move in. I've been really impressed with their selection and the fact that I can pull together an entire space at once versus hopping around to a hundred different stores. I know joke, have a whole cart ready to check out once we close on our house in Houston, so you'll have to stay tuned and see all the pieces that I found and how I style them in my space. I really love shopping their products online because they have some really trendy pieces and exclusive brands like the home decorators collection and style. Well plus home Depot hooks you up with perks like free shipping on orders over $45 and flexible delivery options like in store pickup and two day shipping to your house. Because if you're anything like me, you want it ASAP. So go check out some super on-trend decor from home Depot. Just hop over to home depot.com and click on the home decor and furniture section.
Cara Newhart: 28:56 So when you are designing a space, is your process kind of like, since you've done so many, is it kind of down to a science where you like start with a certain thing and then like move through steps or is it just kind of all like a fresh approach depending on the client and the house and all of that?
Leanne Ford: 29:14 Well, the biggest thing I like to do, I love working with old homes the most. So I go in and I see what characters in there and what we can keep and that inspires the rest of the design. You know, so, um, there's two things. The home that inspires it and the client inspires it. So I put those together and you know, kind of push it forward a little bit, but it's all about the, the, that lives in that home. As an interior designer, we leave.
Cara Newhart: 29:44 Right. And these people have to stay in, love it and enjoy it, be proud of it. So yeah, I'm very careful with that to make it all about the client. But then with the house, you know, you look for kind of interesting things. Is it quirky or is it beautiful or is it old or what do I want to keep and let that start leading you in the rest of the design. Yeah. Oh my gosh, that's so good.
Cara Newhart: 30:09 So I have a couple of listeners submitted questions that I promised I'd ask and there a little bit silly. But the first one is how do you style your hair? Because everyone loves it.
Leanne Ford: 30:21 Okay. That is so funny. Tell them thank you. I like, actually I stabbed my hair. It's called bed head. I wake up, it's, I always looked back and I remember when I was young and people would be on TV, I'd like, you're on TV, why don't, well, why don't you at least put on, you know, I don't know, more clothes that, yeah.
Leanne Ford: 30:46 Like why don't at least put yourself together right now? I'm like, when you're on TV so often you just kind of give up. Yeah. This is me. It's the, it's definitely bedhead I love it. Sometimes a good haircut. Yeah.
Cara Newhart: 31:02 Yeah. Love it. Um, and then the second one is how can someone be your client? Like how would they get on your show as you, like you redoing their house?
Leanne Ford: 31:13 Um, well, so HGTV kind of helps, um, helps find people in Pittsburgh to be on the show. So [inaudible] Pittsburgh than theirs. Go to go to high noon productions. They have a website that they're always casting and they can go onto that and kind of find it in, do a little pitch. But, uh, you know, [inaudible] projects, it depends. It depends where I am and what, you know, what time I have and I take on inspiring projects.
Leanne Ford: 31:49 Um, if the people are inspiring and the house has to be inspiring. So yeah, it's, it's fun to be selective. But I also love doing my own houses. That's the fun stuff. Yeah. Cause there's, you get to make all the rules. Yeah. You get to kind of play and talk about messing up. If you mess up, it's no big deal, you know? Yeah. And I get to try new things that I, I would want somebody else to try to get to see if I was crazy or not.
Cara Newhart: 32:16 Yeah, I love it. So you've had some really bombed collaborations like a mid-mod vibe lighting collection with target and then a capsule collection with the Formica brand. Is there anything coming up for you along those lines that you want to share a little about or even just like a product that you're loving?
Leanne Ford: 32:35 Yeah. You know, I'm working with Leesa mattresses and there's such an incredible company and I, you know, I have to say, I love to sleep.
Leanne Ford: 32:48 Like if there can't be a better collaboration but they have a new matches, the legend coming out that's dual hybrid. So it's coming out in the market and [inaudible]. Okay. I don't know, maybe I'm a sleepless mother, but I have to say I've had the best night's sleep. Yeah. The Leesa mattresses. So they've been awesome. They're doing a one for one program that they, for every mattress you buy, they give a mattress to a little kid in need, which makes me so happy. So they've been, they've been awesome.
Cara Newhart: 33:21 Yeah. So what is the dual hybrid mean exactly?
Leanne Ford: 33:25 Oh, well I liken it to a double cheese burger. Yeah. Terrific. It's foam and coils. So, um, but it's a double layer of foam and coils. Right. So, okay. What it means is a very cushy switch. Was she but very firm bed. It's like the best of both worlds.
Cara Newhart: 33:46 Yeah. So you're not just like sinking in, but you're not like laying on a slab.
Leanne Ford: 33:51 Yeah. And then they, and then they're, they, they're doing a lot of the shift to sustainability, which is really important in the market of, you know, as we create more products and as we all kind of bring more things into our home of how we can be positive and have a positive impact w in that. And so any little thing helps. So this mattress company at has been really great. So checking out.
Cara Newhart: 34:18 Yeah, I will. Oh my gosh. Totally. Well cause I, we're moving and I'm going to have two guests bedrooms and I need like three new mattresses.
Leanne Ford: 34:25 So you've got to — leesa was like the sweetest name.
Cara Newhart: 34:31 That's really cute. Yeah. And we'll link it in the show notes for anyone else that once one.
Cara Newhart: 34:36 Um, so what is like, what is like your longterm goal, just like with your career overall? Like where do you see it going?
Leanne Ford: 34:43 You know, I, I have to say I, I really, I have, then this has all been a total blessing and I kind of am very good at letting it play out as it should. I don't know. I don't know why I'm, I am controlling in certain things in my life, but not in my career. I kind of am like, let it, let it play out and see what happens. And I'm just enjoying where it is now. So if it goes away tomorrow or if it's on for another 50 years, I'm happy either way.
Cara Newhart: 35:21 I love that. I feel like there's something to be said for not having, you know, like say a plan that's too set in stone. Like just doing the next right thing is really all.
Leanne Ford: 35:30 Yeah. You know, so I've always been freelance. So with freelance it's all about kind of letting, letting things go and you know, taking on projects, I always said say yes to everything you can until you get to say now, yeah, no. And say yes and learn and try things and see what you're drawn to and see what you love. And then eventually you'll start saying no to the good stuff so you can see us to the great stuff.
Cara Newhart: 36:01 Yeah. Yeah. Oh my gosh, that's really, really good.
Leanne Ford: 36:04 So, um, you're very supportive, Cara.
Cara Newhart: 36:07 Thank you. My goal is just like, yeah, well I just feel like, like a lot of people as far as TV personalities are just so inspired and kind of like hold everyone to another level, but just getting to like sit down and chat and realize that like, yeah, I mean not a regular person but kind of l.
Leanne Ford: 36:29 The thing is it's, you know, when you kind of open it up, I always said, I'm like, I never want to or need to be um, famous. I just, I always just wanted to be known in my industry, right? Like I wanted to be respected and what I've chosen to do for a living. So it's cute cause HGTV is all about, you know, what we do for a living. It's all about our career. And even though there's a reality aspect to it, it's not, it's, it still, let's just have private life, you know, we're very real people that this is what we do for a living.
Cara Newhart: 37:11 Yeah. I love that. It's like real in that like the real you comes across and you get to be yourself. But not so real where it's like come into my house and see us right there. Yeah.
Leanne Ford: 37:24 Luckily they edit that out. Yeah. No it's is fun to um, it is fun to kind of do this interior design on TV and like my, the favorite part that I have is that it inspires people to think differently about their own homes. Right. I don't, I can't be an interior designer and come help everybody. But what I do love is kind of giving people ideas and sources and where to and how to shop. And on my website on leanneford.com I, I write down every everything from the project where everything was bought, how we did the process with the pink colors are cause I, I really think people should be able to steal those ideas and make their house beautiful.
Cara Newhart: 38:14 Yeah. That's something I really love about, well really a lot of the HGTV shows but also yours is like the partnerships with local makers.
Cara Newhart: 38:22 Like I was watching one episode with like some amazing opulent light fixture that you had someone like hand make. It was like gold and look like a, like a sculpture.
Leanne Ford: 38:33 Um, I mean we, I use as many artists and support as many artists as I possibly can because it's just another kind of avenue how this can be helpful to other people.
Cara Newhart: 38:47 Yeah. I love that. Just the collaborative like approach. Yeah.
Leanne Ford: 38:51 So you're only as good as your team? Right. So think the more, the more inspired and, uh, creative and competent, talented people around you, the better everything's going to be for everyone.
Cara Newhart: 39:04 Yeah. Do you have any like, insight into sourcing from local artists? Like, besides just Googling to find what you're looking for?
Leanne Ford: 39:13 Well, you know, if you see something you love or think of something that you want to do, you can always find somebody local to make it.
Leanne Ford: 39:23 You know, there's, there's always, there's, there's every form of artists and out there. So I think, I love that. I love that that's an option. And if you can possibly, you know, I guess that'd be another good example where there'd be things that I wanted that weren't created yet. Like there's, yeah. Yeah. It really either didn't exist or didn't exist to how I needed them to or in the size I needed them to. So, um, that was this. I had to go find somebody to do them. So, and that always turns into a good thing.
Cara Newhart: 39:58 Yeah. That's so cool. I think that's like what really drove me to DIY cause when I first first ever had the house it was like, well I want this, but I don't see it and I can't really afford like thousands of dollars to make it. So I'm just gonna try it and see how it goes.
Leanne Ford: 40:13 Right. That's exactly right. I mean, honestly, some of my favorite, um, designs I ever did were on this tiny little budget, so I had to get creative. Yeah. And even though the budget always drives you batty, why, when you're in it as the end of the day, uh, okay. It just kind of makes you, I think to have to think differently.
Cara Newhart: 40:37 Yeah. That is so true. Like people, I feel like think that they're limited by a small budget when really that like is just kind of like a facilitator of being extra creative. Like cause you're forced to, you know. Yeah. See. Exactly. Perfect. Well thank you so much. This is like jam packed with some of the best insight.
Leanne Ford: 40:58 Yeah, sure. It's been so fun to talk to you. Thanks for calling.
Cara Newhart: 41:02 Of course. Thank you for sitting down with me and this was amazing.
Leanne Ford: 41:06 Okay, well call me if you need me.
Cara Newhart: 41:08 Okay. Okay. We'll do!
Leanne Ford: 41:09 Bye Cara.
#OBSESSED: 41:23 hashtag obsessed. So this week I'm obsessed with polymer clay. Um, which sounds
Cara Newhart: 41:34 kind of funny cause I'm like over here playing with clay, but it is a lot different than probably the clay you used, like growing up in art classes. Um, I know it's something that I had never really used until recently. Uh, we always use like the air dry clay in art classes, like the crappy kind that breaks and cracks whenever you dry it out. Um, but polymer clay is a little more like rubbery. Um, this is a nontechnical explanation by the way, but it's a little more like rubbery and bendable and it stays totally pliable until you actually bake it and you can bake it at home in your oven, which stiffens it up and makes it hard. Um, but until then, it's very bendable so it doesn't dry out, which is great for people like me that, you know, would neglect it and have it dry out.
Cara Newhart: 42:26 Um, but what I really like about it is it lets you get kind of like, um, like a pottery look or like a ceramics look, kind of like a handcrafted craftsmen vibe, but it's just a DIY project and it's really easy to work with. So if you don't consider yourself an artist or you know, you don't think you'd be good at ceramics, which you know, you gotta have like a gazillion other things, like a firing thing and one of those wheels. And anyway, if you're not up to speed on all that, you can still use polymer clay to get a similar effect. So what I recently used it for was, um, some napkin rings that I made. I use like a terracotta color and then I like rolled it out and I pressed leaves down into it to create like a print. And then I baked them in my oven and they came out like very anthropology vibe.
Cara Newhart: 43:19 Um, but they were very cheap because the whole thing of clay was like $12, and I got like eight. I got like 10 napkin rings out of it. So anyway, this is one of those materials that I feel like you're going to want to play with if you haven't, um, for holiday gifting, holiday decor, because you can do a lot of cute like ornaments. You could do earrings. Um, a lot of people make polymer clay earrings, but I'm just telling you now, go get yourself some falling McClay and start playing around with it. Um, because you're going to love it and it, because it might not be a medium that you've tried. The other great thing is it's obviously something you don't need power tools to use to DIY with. And a lot of you have been asking about like some more mediums where you could make DIY decor.
Cara Newhart: 44:06 Um, but it looks professional and not like crafty, if that makes sense. But you don't need power tools because a lot of the like chic decor projects that I'm doing are very like wood based and building based and you need to like, you know, build all this stuff. So some of you have been asking like, how do I get a chic decor look? But I don't want to use power tools, but I also don't want to like hot glue a bunch of crap together, make it look like a craft. Like where's, where's the medium? So polymer clay is a really good option for a lot of different things. Um, so yeah, I would hop on Pinterest, get some inspo. I will obviously be posting my napkin ring projects super soon so you can see how to make Thanksgiving napkin rings that are so freaking cute and Oh my gosh, they look really expensive, but they were very easy.
Cara Newhart: 44:56 Um, but yeah, I love to see what you guys make with it. And, uh, what you think about it. If you haven't used it and you're curious about some more tips. I have a lot of good YouTube videos that I can refer you to. So, um, shoot an email to me at podcast and never skipped brunch or call the hotline. That number is (720) 319-7438 and I would love to answer all your polar Merkley related questions when it comes to using it for home decor. Different pieces. You can make some techniques, all of it. Let me know what you need to know.
WAIT, WHAT?: 45:33 [music] wait, what?
Cara Newhart: 45:45 what you should buy through blankets depending on where you're going to put them in the room. So this throw blanket dilemma comes from those of us that just when the weather starts getting cold, we just start seeking out cozy things and we start hoarding, throw blankets. Everywhere we go. We just like target as a cute one. There's a cute one over here on Etsy. Let me just buy all the blankets to make my house super cozy. No shame in that. But I was talking to a follower on Instagram in reference to this blanket ladder DIY project, which everyone freaking loves. Um, I will link it in the description if you want to make one. It is a great way to store your blankets, but she was talking about like size of blankets and asking like how to know what size of a throw blanket to buy, asking like does size matter?
Cara Newhart: 46:43 Uh, yes it does. But the reason is like if you're using a throw blanket functionally, uh, like just only as a blanket and not to decorate, you're going to buy the size obviously that fits you. So if you're a very tall person, you would need a very large blanket and vice versa. But if you are going to use it, you know, occasionally to throw across your lap while watching a movie, but mostly for decor and to cozy up your space, then it's important to think about where the blanket is going. So obviously a blanket ladder is ideal because you can fold any size of blanket up to fit on a ladder because you're just folding it. Like if it's too big, you just fold it. Again like folded over the ladder. But if you are going to style it on a piece of, then it needs to be kind of like within proportion to that furniture.
Cara Newhart: 47:34 So like a big blanket is better for a couch versus like a little small blanket on a chair so it's not looking swallowed up. So if you're trying to buy a blanket specifically to like style on a piece of furniture, go big. If it's a big piece small, if it's a small piece. Um, you also want to think about when you're thinking about like function of the blanket, you also want to think about like if you were in the living room and it's like a big cozy up, like getting really cozy, like a huge blanket. Like I literally bought like a King size, like soft, fuzzy blanket and we keep it downstairs and when we watch a movie it's just like the blanket can go across the whole couch and we can all like snuggle up under it. Um, but it doesn't store very well.
Cara Newhart: 48:19 Like even on a blanket ladder because it's a King size, it gets super bulky. Um, so that's something you want to think about. If you're going to try to style it in like your main living room where you entertain a lot, maybe you want to go for like multiple smaller blankets. In that case you can also use multiple smaller blankets to like very color, add some pops of color, add some texture, add some neutrals. Um, so small throws like multiple small ones work good if you're trying to tie a space together and you need like a common thread of like a blanket ladder with a lot of texture and different color going on to kind of pull different accessories in the room together. Um, it's also good to go small if the pattern is super bold. So if it's like crazy colors or as really bright pattern, you probably want to go with a smaller blanket.
Cara Newhart: 49:11 So it's not like overwhelming the space. So yeah, since it's cozy season and it is time to hoard all of the blankets, those are my best tips for styling them. I would love to know what you think, whether you prefer like a giant blanket, everybody can snuggle together or if you're like, no, everyone needs their own blanket. So share your thoughts on Twitter with hashtag MakeSpace podcast or shoot me an email podcast@neverskipbrunch.com. I would love to know if you're like me and you just kind of buy every cute and cozy blanket that you see or if you're really good at planning and you really think about how they're going to work in your space and style them and all of that. Um, cause for some reason, like most core and home accessories, even throw pillows, I'm like very strategic about how they're gonna look. But when I see a cozy blanket I can not pass it up.
Cara Newhart: 50:07 But anyway, thank you guys so much for listening. You're going to want to hit subscribe because I have a bunch of amazing guests coming up and while we're talking about cozy things, I have Liz Marie Galvan who is the author of cozy white cottage. She is like the queen of cozy and the book she wrote is so perfect for fall and for snuggling up under a so you're not going to want to miss that. So if you're not a subscriber, hit the subscribe button and if you are, I would absolutely love if you left her view. I still have some of those coffee scoop and clamps to give away. So if you want to leave a review, screenshot it and send it in before you hit submit, just email it to me at podcast@neverskipbrunch.com I will send you a little free coffee scoop that has like a clamp on the handle and it's so cute and gold and you'll love it. Anyway, thank you guys so much for listening and I'll talk to you next week.
OUTRO: 51:19 Love this episode. Leave a comment on the blog post or use make space podcast to share your thoughts. If this is your first time listening in, be sure to hit that subscribe button so you can stay updated with the newest episodes. If you're a subscriber and you love the show, be sure to rate, review or screenshot and share your favorite episode on social.
p.s. This post may contain affiliate linking for your convenience. These links don't cost extra for you to use + I always share my honest opinion.